I am participating in the link party at
Night Owl Crafting
for Hoo Are You Tuesday. Go ahead and check it out and participate as well!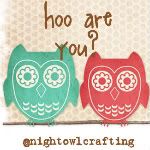 Hoo are you Tuesdays?
So, here are my answers.....

1. What are some of your pet peeves?
I dislike suck ups! I can't stand when people fall for it, and let their judgment falter because of flattery. I think hard work and good character should always prevail!
2. Do you have a favorite or lucky number?
8.....not sure why....just love that number! :)
3. What is one of your family traditions?
well, I'm not sure if it is considered a family tradition, but we have started baking cookies for Christmas with the kids and their cousins each year, as well as egg dying before Easter.
4. Is there anything you are OC about?
Sandwiches. My husband makes fun of me for it. Well...food in general. I can't stand having fillings uneven. When we eat at Arby's I have to redistribute the meat evenly and then put equal amounts of Horsy sauce and arby sauce on both buns.....my husband thinks I am crazy! LOL
5. What is your favorite kind of food?
Sushi!! I could eat sushi all day everyday! LOVE it.