So, once again, I am playing the Hoo are you Tuesday at Night Owl Crafting.....go here to play too!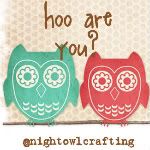 1. Do you have any siblings?
Yes...an older brother and an older sister....I am the baby!
(the 3 of us with our cousin)
2. Do you have any children?
I have 3 beautiful kids....a daughter who is 8, son who is 6 and son who is 4
3. Are you a morning or night person?
My kids have sort of forced me to be a morning person, they all get up at the crack of dawn.....I find it hard to stay up past 11 pm now!!!
4.Are you organized or spontaneous?
It depends...on vacation, I prefer to be spontaneous or it makes it too stressful to me. Actually, I think I am more spontaneous with everything. I am very much a "go with the flow" kind of person!
my husband would laugh if I said I was organized!
(This was my attempt at organizing my fabric)
5. What is your typical 4th of July like? Laid back at home? Community celebrations? etc...?
We usually just hang out around the neighborhood. There is a big fireworks display not far from here, so we can see it from here. Last year we went to a neighbors house and watched from their backyard. Probably more of the same this year!