Here we go again.....I am participating in Night Owl crafting's Hoo are you Tuesday to let everyone know a little more about myself. It's good clean fun. If you want to participate, just follow this link here and tell a little about yourself as well!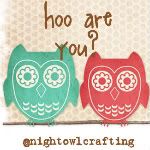 Here are this weeks questions!
1. Have you ever broke a bone or anything on your body?
Not a bone, per se.....but I did crack open my head and require many stitches while my mom was out of town and I was on my Dad's watch. Just in case you don't know......clothes lines DO NOT hold people.....just clothes! LOL

2. What is your favorite drink?

COFFEE.....dealing with 3 demanding kids every morning makes coffee my best friend!!

3. When is your birthday! You don't have to tell the year you were born!

August 2nd.....coming up soon! as for birthstones...I think mine rivals Nov as ugliest....LOL

4. Do you have an allergies?

I think I may be allergic to bull@#$*..... but I don't know how you test for it! LOL
5. What is one of your all time favorite movies?
Steel Magnolias is my all time fave! There is nothing better in a movie than one that makes me cry only to be followed directly with laughter. I think laughter through tears is my favorite thing!
So, now you all know a little more about weird little me! LOL!