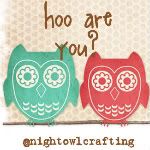 I am linking up to Night Owl Crafting's Hoo are you Tuesday. If you want to participate, just click the link above! I wasn't able to participate last week because I was dealing with a broken A/C unit in the month of July in AZ....NOT a good thing! So, anywho....
Here are this weeks questions!
1. Do you prefer sweet or salty foods?
I have a sweet tooth for sure, but I also love salt. The combo of the two is heaven for me......like dipping french fries in a chocolate shake....YUM!
2. Name your 3 BEST personality traits!
I think I am funny (others may disagree..LOL), caring, forgiving. I do NOT hold grudges, cause life is too short!
3. Name your 3 worst personality traits!
That I think I am funny! (LOL), I am impatient, and lazy.
4. Do you collect anything?
I used to collect pigs, but not anymore. Now the only thing I seem to collect around my house is dust. I think I need to stop that, too!
5. What is your favorite season of the year?
Christmas time! I love seeing the lights up everywhere, people showing compassion for others, the cool temps so I can snuggle with my honey....but most of all, it is a great reminder to me of God's grace and compassion.....a renewal of hope!!!